FAQ
Sometimes, You Just Need a Little Extra Help
We've gathered some of our most popularly asked questions since the new website and online platform launched, and want to share those Questions and Answers with you here:
Most people own at least one debit card and at least one credit card. They know they have them, but they may not know about all the differences that exist between using a credit card and a debit card.
Believe it or not, there are many. The most basic difference is the fact that each time you use a credit card, you're borrowing money. A debit card, on the other hand, simply transfers your own money from your checking account to the vendor you're paying.
When you use your credit card, your credit union is lending you money, which you'll need to pay back along with interest. A debit card takes funds directly from your account similar to the way that checks do, only quicker. Some processing terminals will require a PIN and some will require signature.
Both credit and debit cards are convenient, quick and easy. They're also safer than cash, because cash cannot be replaced if lost or stolen.
Which one should you use? The answer depends largely upon your lifestyle.
1. Budgeting
Credit cards allow you to buy now and pay later. Unfortunately, this can turn into a nightmare because of the obvious financial pitfalls in being able to purchase things you don't have the money for now. If you think you'll be tempted to overspend, regular credit card use may not be ideal for you.
However, it's nearly impossible to incur thousands of dollars of debt through debit card usage. Most credit unions will cover purchases that put your account into the red, but only up to a few hundred dollars. If this happens, you're accountable for your purchases and charged an overdraft fee.
2. Safety
The convenience of debit cards can make fraud more likely. Unless reported promptly, debit card theft or fraud can quickly drain your account. Credit card companies are held to strict liability laws: Consumer liability for credit card fraud is limited to $50. If you report suspicious charges in a written request within 60 days, the company is obligated to investigate and restore the funds to your account if the charges are determined to be fraudulent.
For debit card fraud, your liability is $50 if you notify the credit union within two days of seeing the fraudulent charges. After two days, your liability increases to $500. If you report the activity 60 days or more after it happened, you may be liable for all of it. Although many credit unions have implemented voluntary plans to limit customer liability to $50, there is no federal law requiring them to do so. [In cases of fraudulent debit card activity, Credit Union follows a general policy of…]
In addition to stricter liability laws, credit cards offer consumer protection on purchases. You can always cancel a charge if you are the victim of an online scam or bought something that was never delivered or wasn't what you expected. This makes credit cards the ideal choice for large or fragile purchases that will be delivered to your home for additional insurance on the purchase.
3. Rewards
One major draw for credit cards is the points awarded for purchases. That's a strong advantage over debit cards. The ability to earn airline miles and the lure of a possibly free flight are attractive to many consumers. Of course, you may be paying for those miles with a high interest rate or an annual fee.
Don't get hooked on the points. Research each card carefully to make sure you're really getting your money's worth.
4. Credit History
Another important benefit to using a credit card is establishing or restoring a positive credit history. Debit card usage may encourage responsible spending, but a major factor in measuring your credit score is your credit card usage. Occasionally using a credit card and paying your bill on time can really improve your credit rating. This, in turn, improves the likelihood of earning favorable terms for home loans, auto loans, personal loans and more.
5. Annual Fees and Interest
A strong disadvantage of credit cards is the money you spend to keep them. Some cards charge an annual fee, and the interest on your credit card bill can easily be a third of your payment or more. If you've overspent one month and are unable to cover the entire amount due, you may need to pay only the minimum payment. More of your payment will soon be going toward interest than toward lowering your bill. This makes the next payment higher, and again you'll be paying a significant portion toward interest. This is often how credit card debt spirals. Interest becomes a huge hurdle, making it nearly impossible for the consumer to make headway.
If you don't think you will be able to pay your bills in a timely manner, keep credit card usage to a minimum.
As a Highmark Credit Union member, you already have access to fantastic rates and optimal security. To find out which debit or credit card is best for you, call, click or stop by today!
Q: On my mobile app, why can't I see the detail of the transaction when I use my Highmark credit card? All it shows is Loan Advance or Recurring Loan Advance and the amount. 
A: Great question. Lots of members are confused by this. Simply click on the individual transaction under that specific date and you will be able to see the full detail about where the card was used. 
Q: How do I log off the Mobile App? I want to be sure I am logged off and it is secure.
A: There is no log off button for the mobile app.  As soon as you close the app or switch to a new app, you are automatically logged out and will need to log back in. 
Q: How can I find my e-statements?
A:  You can find statements by clicking on the title to one of your accounts and then choosing Documents from the next list of to do items. 
Q: I want to deposit my check remotely. Why can't I find that on the app?
A:  You must be signed up for e-statements in order to have access to remote deposit.  Follow the instructions for e-statement sign up under Documents to sign up!
Q: Why does the app keep sending a passcode to my phone when I already did this once?
A:  Whenever you use a new IP address to connect to your account, multi-factor authentication will trigger and send a passcode to the phone of your choice.  Either by text or call.  If the original method chosen is not your preferred method to receive the code, please call 605-716-4444 and a representative can reset your authentication so you can set up a new method of authentication.
Q: It doesn't look like Quicken is working with this app. Why not?
A:  You must reconnect Quicken to the new system.  This means you will need to disconnect from the old system and re-add your account with Highmark in order to connect to the new Online Banking System.  Please contact Quicken if you need help with this process.
Q: With all the economic uncertainty now, I'm wondering if it's safe to keep my money in my Highmark accounts. Should I be withdrawing my funds to keep them safe?
A: COVID-19 has pummeled the economy in an unprecedented way, and financial experts say the economic fallout of the pandemic is just beginning. But that doesn't mean you need to start hoarding your money under your mattress. You don't need to worry about the money you have at Highmark Credit Union. The country may be battling a raging pandemic and the economy might be barely limping along, but neither of these factors affect the security of your funds here at our credit union. As always, Highmark is federally insured up to $250,000 per single owner share by the National Credit Union Administration  This means your money is protected here no matter what's happening on Wall Street or to the global economy. The economy might be unstable right now and the immediate future of the country still unknown, but there's one thing you can count on: Your money is secure at Highmark. To get the exact amount that your shares are insured for, based on the number and kinds of accounts you have,
 check out the link here,
provided by the National Credit Union Administration.  
And Did You Know?

Account Nick-Names: You can nickname your accounts through online banking so you can distinguish between multiple accounts across multiple membership numbers.  You can nick-name accounts by clicking on settings and then hitting the rename link next to the current account name on this page. 
Check re-orders:  Currently you cannot request a check re-order while logged into your account.  (We are working to get this option integrated).  For now, please go to our homepage and click on tools and services then choose check re-order from the drop down list to re-order checks. 
External Accounts:  You can now transfer between institutions by setting up external account transfers.  From the mobile app this is located under Menu>Settings>External Transfers add an account.  From within your browser log in this is located under Transfers>External Accounts then +External Account.  Initially it will take 24 to 48 hours to set up the account because two deposit test transfers must be verified before regular transfers can take place.  You will enter the deposit amounts of the two small test transfers in the same spot you went to add the external account. 
If you have further questions, or just need some assistance finding your way around the new app, please call us Monday -Friday 8:30-7:00 at 1.800.672.6365 or reach out here.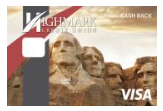 Earn Cash Back
Paying on credit cards with double digit interest rates? Earning cash back on purchases?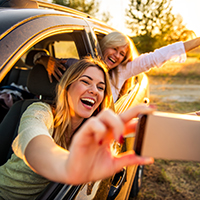 Vehicle Loans
Get rollin' in the new or used auto, truck, SUV, RV, or motorcycle you've been dreaming of.