My Credit Score
Now Protect and Manage Your Credit with My Credit Score
Your credit score is more than just a number. Lenders use it to determine if you are eligible for a loan, how much you can borrow, the interest rate, and your payment - all important things when it comes to your financial future. 
With My Credit Score, you now have instant access to your credit score, credit report, personalized money-saving offers, and financial education tips on how to improve your score or maintain an already great score. It's even built right into our easy-to-use platform, so you don't need a new login.

Benefits of checking your score today include:
Receiving daily credit monitoring with alerts for major changes,

Identifying credit bureau errors,

Understanding the factors that impact your score, and

Working toward your financial goals!

Tabs Within My Credit Score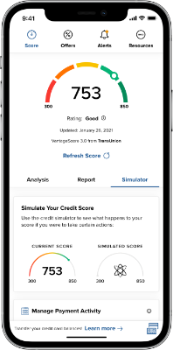 Credit Score
Offers a new sub navigation for Score Analysis, Credit Report and Credit Simulator
Credit score events are displayed in a stackable chart to visualize the relationship of the score with payment history, usage, or opening/ closing of accounts.
Credit Score simulator allows you to see the potential impact of opening new accounts or paying off balances early. The interactive tool will simulate the your credit scores before taking those actions.
Loans & Offers
This section gathers all the loan offers applicable to you, and displays them under each product category.
Alerts
The Alerts section tells you which changes to your report are important to note.
Resources
This section provides some FAQs, access to your user profile, your money blog as well as credit monitoring history. 

About My Credit Score
It's Free!

It's a "soft pull" on your credit report and does not affect your score

Receive monitoring alerts




Identify Credit Bureau Errors

See best rates available for you based on your score

Get personalized tips on how to improve or maintain your score

 

How Do I Get My Score?

Getting your score is easy! 
Log in to your Online or Mobile Banking and click on the  "My Credit Score" button 




You'll fill out a short form and answer some questions to identify yourself




You get your score!



Anytime you log into your Online or Mobile Banking you can check your score. Your score will be pulled weekly and you'll receive an email letting you know what has changed that past week.

FAQs About My Credit Score
Q: What is My Credit Score?
A: My Credit Score is a comprehensive Credit Score program offered by Highmark that helps you stay on top of your credit. You get your latest credit score and report, an understanding of key factors that impact the score, and can see the most up to date offers that can help reduce your interest costs or lower your monthly payments. With this program, you always know where you stand with your credit and how your financial institution can help save you money.
My Credit Score also monitors your credit report daily and informs you through digital banking and by email if there are any big changes detected such as: a new account being opened, change in address or employment, a delinquency has been reported or an inquiry has been made. Monitoring helps users keep an eye out for identity theft.
Q: Is there a fee?
A: No. My Credit Score is entirely free, and no credit card information is required to register.
Q: How does My Credit Score differ from other credit scoring offerings?
My Credit Score pulls your credit profile from TransUnion, one of the three major credit reporting bureaus, and uses VantageScore 3.0, a credit scoring model developed collaboratively by the three major credit bureaus: Equifax, Experian, and TransUnion. This model seeks to make score information more uniform between the three bureaus to provide consumers a better picture of their credit health.