Spirit Debit Cards
New: You're A Belle Fourche  Bronc!  
Tell Everyone Else With Your Broncs Spirit Card
And Earn Money For Your School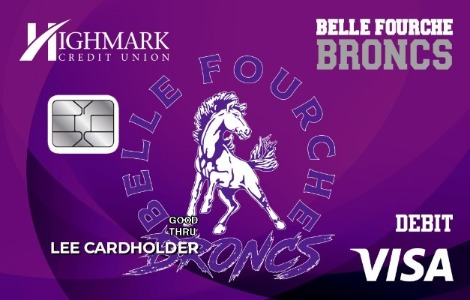 Choose From Any Of Our 7 Spirit Cards & Earn Money* For Selected Schools
Over $2900 Has Been Donated To Area Schools
in the past 18 months! 
Current Standings (as of August 31)
1st Campbell County        134 Total (26 in August)
2nd Thunder Basin            126 Total (16 in August)
3rd RC Central                     124 Total (16 in August)
4th BHSU                               95 Total (10 in August)
5th RC Stevens                   54 Total (11 in August)
6th Spearfish                       9 Total (9 in August)
| | |
| --- | --- |
| | |
| | |
Highmark Credit Union - founded by educators and still supporting education and our schools after 82 years!
Now, teachers, parents, alumni, students, and fans can choose their local school team* and show their true colors. Not a member yet? Apply today for our free checking and get a debit card with your college/school logo and support your local school. When you use your Spirit Card for credit purchases, we will donate a portion of each purchase amount to the school on your card.
Spirit debit cards are free with any checking account. Use your card worldwide wherever VISA® cards are accepted. Spirit debit cards also function as your ATM card. If you have a checking account and you would like to find out how to receive a Highmark Credit Union Spirit debit card, please Contact Us.
Some Important Things To Know
If you already have a Highmark Credit Union debit card, and wish to replace it with the new look of a Spirit card, there will be a $5.00 processing fee. Any of our financial associates can help you with this. 

A Highmark checking account is required for the School Spirit Debit Card to be attached to.

To be eligible to open a checking account you must establish membership with Highmark Credit Union, which you can do by simply by opening a Savings Account (called a Share Account) with a minimum of $25 deposited into the Savings Account at opening. It's quick, easy and you can start the process online. Learn more. 

Highmark has three great free checking account options for you:

Anyone 18 or older may open a checking account with one of these debit cards.

If under the age of 18, the minor must have a parent or guardian present to open a checking account. Normal membership and checking account terms and conditions apply.

There is no additional cost to you.

These instant-issue debit cards are free to our members if you have a checking account with Highmark.

These are not credit cards.

Regardless if you run the card as "debit" or "credit", these are still debit cards. That means there must be funds in your Highmark checking account to be able to use the card.

At this time, only these 4 cards are available to select from. Should we expand the Spirit debit card program, we will add those schools at a later date. 
*
For each spirit debit card swipe (purchase), Highmark will donate 10% of the interchange income  to the corresponding school.
Hassle-free for you because Highmark tracks the number of transactions and submits a check to each school quarterly. This year's donations will be given to the corresponding school's Booster Club.