About Us
Rapid City's First Credit Union - formed in 1940
at Rapid City High School
Formed by teachers in 1940 at Rapid City High School, we are still here for you. Providing affordable solutions for generations in our community.
What was started by teachers in a small janitor's closet in  Rapid City High School in 1940 has become a leading credit union for educators and everyone else who lives, works and worships in the Black Hills region.
What a success story our education background has helped us tell. Those simple beginnings and steady successes enabled us to evolve into a strong and solid full-service financial institution that shapes the lives of our members and our community.
Like today's consumers, those teachers had a need. Although the financial landscape has changed dramatically since 1940, the vision of our founders continues today as we innovate and seek ways to better serve the needs of our members – young and old.
From that small closet in Rapid City High School  to today's online, high-tech world, we're planting roots, building trust, building relationships and meeting the demand for services for multiple generations. We're home grown banking  - helping you make Smart Money Moves. We're Highmark!






HISTORY:
Did you know that Highmark Federal Credit Union is Rapid City's first credit union?  From our humble beginnings, Highmark FCU served members from a converted janitor's closet area at the Rapid City High School.  Throughout Highmark's history of exceptional member service, we've undergone many changes as a result of continuous growth.  Here is our story:

Highmark Federal Credit Union was originally chartered on October 28, 1940, as Rapid City Teacher's Federal Credit Union, Charter #4122.  By December 19, 1941, the Credit Union served 53 members with a total of $487.96 in share accounts.  Only Rapid City area teachers were able to join the Credit Union until 1977, when the field of membership expanded to include the Douglas School System at Ellsworth Air Force Base.  By October 31, 1975, the Credit Union had reached $1,569,162.29 in assets with 1,293 members.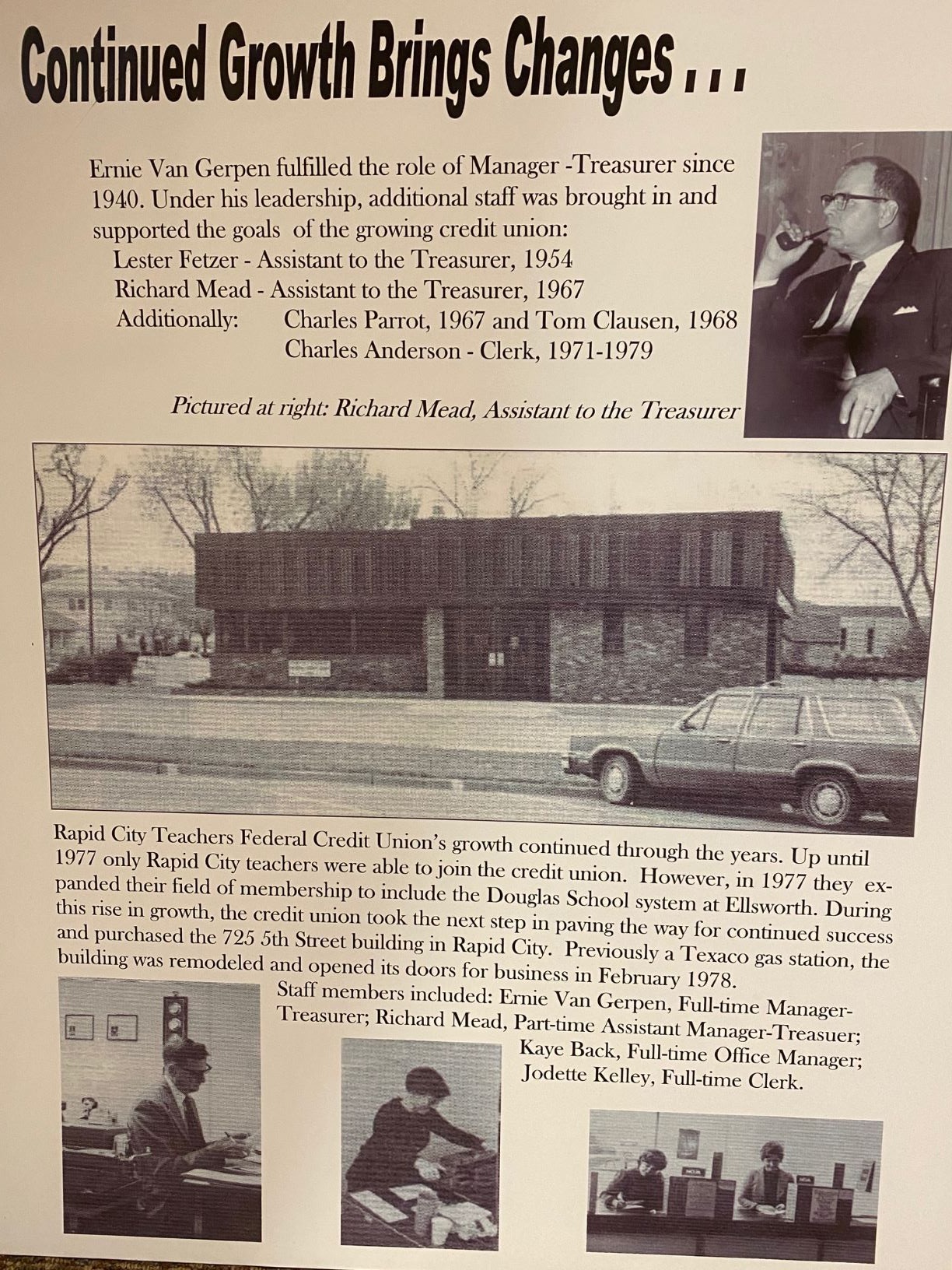 With Highmark's growth on the rise in mid-1970's, the Credit Union took the next step in paving the way for continued success and purchased the building located at 725 5th Street in Rapid City.  Previously a gas station, the building was remodeled, and in February of 1978, we moved into our new office.  That same location is our main office today, and has been remodeled several times over the years.
As our field of membership expanded to include several new Select Employer Groups, (SEGS), our name changed to Rapid City Federal Credit Union in 1988.  At that time, a new addition to the building was completed, including a larger, improved Teller and Lobby area with Drive-Thru Teller Services.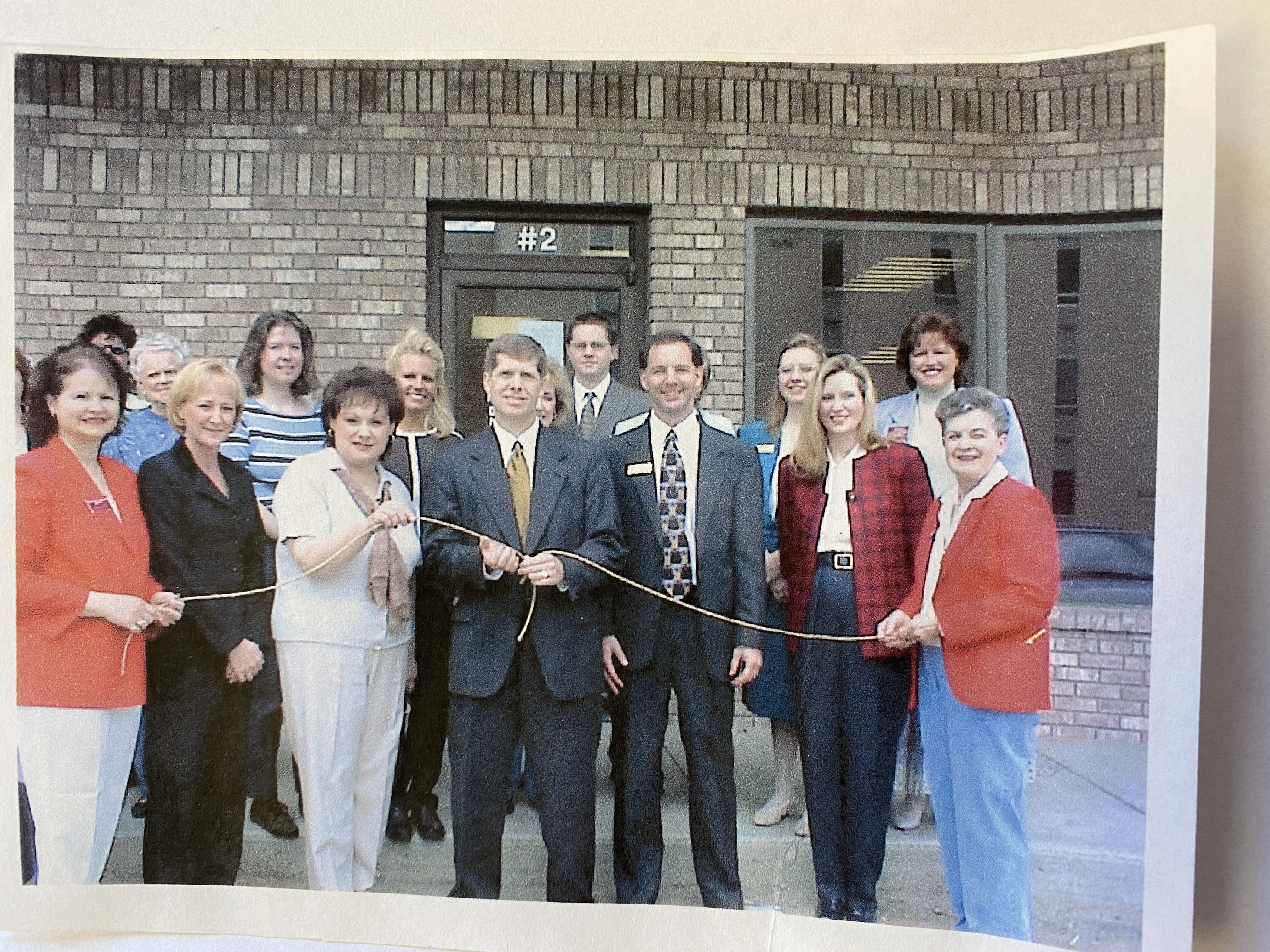 A construction project in December of 1995 expanded the facility an additional 3,200 square feet, doubling the size of the existing building and adding a third Drive-Thru lane.  The construction was completed in July of 1996.
The millennium year was a year of many changes for the Credit Union.  In March of 2000, we changed our name to Highmark Federal Credit Union – a name that incorporates our educational background and the high quality of our products, services, and dedication of our employees and Board of Directors.
In July of 2006, Highmark Federal Credit Union opened a new branch at 602 Mt. Rushmore Road in Custer, SD, where it still resides. The Custer branch is full service and serves the Southern Hills Community.
In 2008 we completely renovated our main facility to allow for growth and expansion.  We moved into our new 17,000 square foot building at 725 5th Street in January 2009.
In February of 2013, we opened a Lending Center at 146 W. Illinois Street in Spearfish, SD.  Today that office is full service and serving the Northern Hills Community.
In September 2015, we opened a full service branch office in Gillette, WY.  Today that branch is growing quickly and serves the greater Gillette area.
In April 2017, we moved into our new full service branch at 309 West Jackson Blvd in Spearfish, SD.  We now have three full time employees plus room for growth and provide many new products and services to our members.
Highmark serves a broad membership base consisting of multiple households through a variety of outlets. Those who live, work, worship or attend school in Butte, Custer, Fall River, Harding, Lawrence, Meade and Pennington Counties, South Dakota, and Campbell, Crook, Niobrara and Weston Counties, Wyoming are eligible to join.  Persons who have an immediate family member who is also a member of Highmark Federal Credit Union are also eligible to join the Credit Union.
On December 1, 2018, Highmark Credit Union and Simply Service Federal Credit Union merged. With the merger, Highmark Credit Union added approximately 2,200 members to our existing membership and 2 new locations to better serve our membership.
Today, we serve over 12,000 members across 11 counties in two states. Anyone
who lives, works, worships or attends school in Butte, Custer, Fall River, Harding, Lawrence, Meade or Pennington County, South Dakota, or Campbell, Crook, Niobrara and Weston County, Wyoming is eligible to join. Additionally,
anyone  with an immediate family member who is a member of Highmark Credit Union are also eligible to join the credit union.