Personal Credit Cards
Highmark has a variety of VISA credit card options to fit your lifestyle. All our cards offer great benefits including:
No annual fees
The same low rate on purchases, balance transfers, or cash advances*
Rewards and benefits for your lifestyle
*** Exciting New Announcement about how to redeem your Scorecard points just announced***
Link your ScoreCard® Rewards credit or debit card to your account with PayPal so you can redeem your points at millions of participating places online for purchases you're already making.
Compare Our Credit Cards
Find the perfect card for your lifestyle.
Most Popular
Ruby Cash Back VISA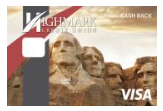 Best for: Those who want to earn great cash back rewards for everyday purchases.
Rate as low as 14.90% APR
Cash back with up to 1.25% cash back on annual purchases over  $3,000
VISA Platinum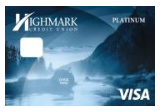 Best for: Those who want to earn rewards that are redeemable for airline miles, hotels, car rentals, + more.
Rate as low as 9.90% APR
Earn  Scorecard rewards on every purchase
VISA Gold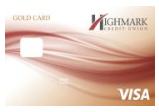 Best for: Those who are looking for their first credit card or to rebuild their credit while earning rewards.
Rate as low as 12.90% APR
Earn Scorecard rewards on every purchase
Learn More About Linking Your PayPal Account to Scorecard rewards.
Compare The Great Features On Highmark VISA Credit Cards
Promotions and contests sponsored by Highmark in combination with our great features allow you to earn more cash back, while also giving back to the community.
✔


No Annual Fees

✔


No Over-Credit-Limit Fees

✔


No Cash Advance Fees

✔


No Transaction Fees

✔


No Penalty APR

✔


1.00% Foreign Transaction Fee
Cash Back Tiers 

Yearly Purchases
Cash Back
$0 - $999.99
1%
$1,000 - $1,999.99
1.05%
$2,000 - $2,999.99
1.15%
$3,000 and Over
1.25%
Start Spending Smarter
Apply for your Highmark VISA card today
APPLY NOW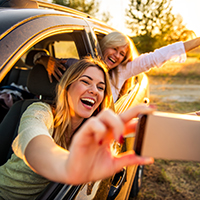 Vehicle Loans
Get rollin' in the new or used auto, truck, SUV, RV, or motorcycle you've been dreaming of.