The Highmark Difference
Mission Statement
To educate and inspire our Highmark family so that all can achieve success.
Vision Statement
Enrich the lives of our communities by providing the highest quality financial services.
Core Values
1)      Integrity –We honor our commitments every time.
2)      Family –We put family first.
3)      Community – We partner with our communities to enrich the lives of our members.
4)      Communication – We value consistent, honest, and timely communication.
5)      Service – We always go the extra mile when serving our members.
Unique Value Proposition
We are the first credit union in Rapid City, longest standing credit union in the Black Hills!

Continuity, longevity in the community.

Oldest credit union, newest tech, staffed and owned by your communities.

Our technology is the benchmark of banking in this region.
Business Philosophy
We do business applying our core values and fulfilling the promises our members can expect. We are not for profit, not for charity, but for service. We are your credit union.
Why do business with Highmark versus a bank?
Did you know we are the region's oldest credit union? Originally chartered on October 28, 1940, as Rapid City Teacher's Federal Credit Union, we have grown to serve the Black Hills and Gillette, Wyoming region out of 5 branch locations. That says a lot about our strength, resilience, endurance and membership base. And it is all because of people like you who believe that a community takes care of its own. People Helping People. 
Operating as a not-for-profit financial co-op means Highmark Credit Union operates as an association of people coming together for a common purpose. Members pool deposits and then loan those deposits to other members. The co-operative principles guide all that we do and helps to define our culture and promise to you, the member.


Insured by the NCUA
Read the NCUA Brochure Here






What makes credit unions unique?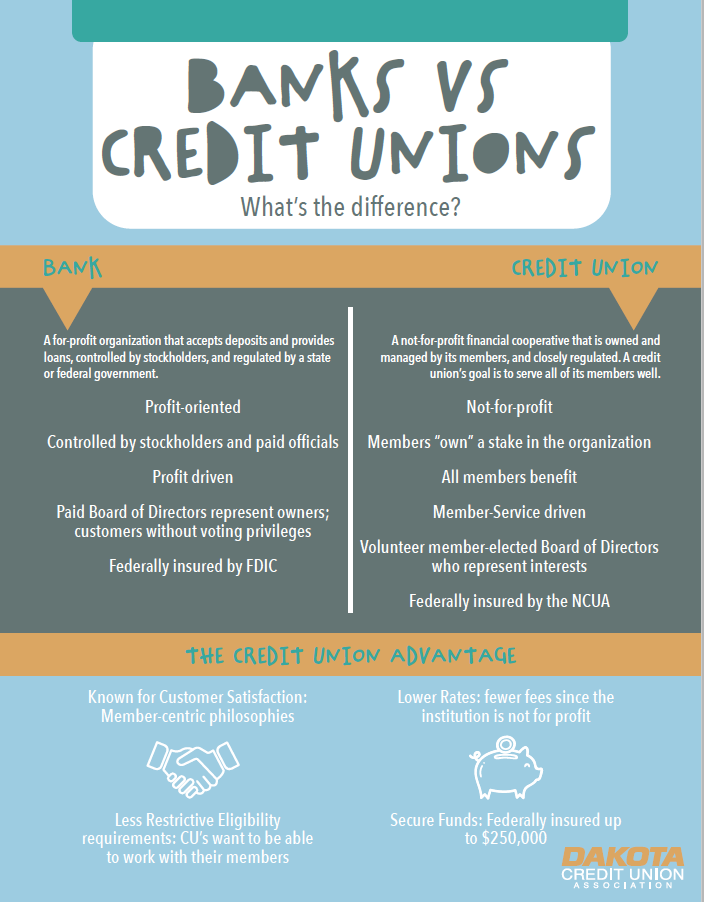 Equal Ownership – Credit unions are democratically controlled and member-owned and member-operated. Each member has equal ownership and one vote regardless of how much money he or she has in savings.
Not for Profit – Credit unions are not-for-profit financial cooperatives that provide a safe, convenient place for members to save money and access loans and other financial services at reasonable rates.
Social Purpose: People Helping People – Credit unions exist to serve their members, not to make a profit. Every member counts, including those of modest means. This "people-first" philosophy impels credit unions and their employees to get involved in their community and support worthwhile causes.
Volunteer Leadership – Each credit union is governed by a volunteer board of directors elected by and from the credit union's membership.
Financial Education for Members – Credit unions place particular importance on educational opportunities for their members and the public to help everyone become better-educated consumers of financial services.
Trust – Lately credit unions have received positive press for being trustworthy and resilient institutions during a tumultuous time. Credit union members worldwide can be proud of these accomplishments and rest assured that their money is safe at the credit union.
What This Means For You?
You are a member-owner of the Credit Union.  You have one share of the Credit Union which allows you to vote for our volunteer Board of Directors.  As a member in good standing, you are allowed to run for the volunteer Board of Directors or serve on the Supervisory Committee.  Unlike banks, which are owned by select stockholders. credit unions are own by its members. All of the profits of the Credit Union are returned to you, the member, in the form of higher dividends, lower loan rates and fees, and improved services.