Additional Benefits & Services
When you purchase and finance a new vehicle, protecting yourself against unforeseen events is always a wise consideration.
You can buy insurance like this from an auto dealership – but you'll almost always pay more. The following optional, low-cost products will help protect your assets.
Debt Protection, a voluntary loan-payment protection product that helps you get relief from the financial burden of delinquency, default, or foreclosure if a protected life event unexpectedly happens to you.
We also offer excellent Guaranteed Asset Protection (GAP) and Extended Warranty policies to protect you from unexpected problems with your vehicle.


GUARANTEED ASSET PROTECTION (GAP) INSURANCE
 GAP will cover any difference between your loan balance and the insurance payout for theft or total loss.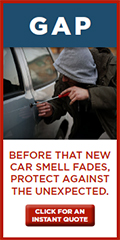 This type of coverage is a must have for any vehicle purchase, as it's value drops significantly as soon as it is driven off the lot. If you don't want to find yourself paying for a vehicle that you no longer have, GAP insurance is particularly important for those with:
The down payment for the vehicle amounts to less than a fifth of its value.
If your vehicle finance period is longer than 3 years.
If the vehicle you have purchased is an expensive one, since these vehicles lose value more quickly and are more enticing to thieves.
AUTO DEDUCTIBLE REIMBURSEMENT
We also offer Auto Deductible Reimbursement (ADR) as an addition to our GAP insurance.  This coverage adds a layer of protection to the individual where GAP provides coverage to a specific piece of collateral.
If a deductible expense is incurred on your auto policy, this coverage will:
Reimburse the Primary Borrower on the loan up to $500 per occurrence
Coverage is effective upon date of enrollment and will continue for three (3) years.



To file a claim, contact your Claims Administrator to request a claim form.  You must report the claim within ninety (90) days of the loss or as soon as reasonably possible.
EXTENDED WARRANTY INSURANCE
An Extended Warranty can provide bumper-to-bumper repair coverage for those expensive mechanical problems that always seem to happen at the wrong time.
When it comes to protecting your investment in your vehicle, there is no better way than an extended warranty. Buying an auto warranty is a contract that guarantees the warranty company will pay for expensive repairs and not you.
Why invest in Extended Warranty insurance?
Experience – While a typical dealer or repair shop might see a particular problem once or twice a month, warranty companies might see the same problem much more often, leading to a faster resolution for you.
Efficiency – It's in the warranty company's best interest to get your repair fixed correctly the first time, since they are still liable if it doesn't get repaired right.
Convenience – Not only will you save money on repairs but many extended warranties also include added benefits such as 24/7 roadside assistance, towing, car rental and travel interruption protection.
Resale Value – A vehicle still under warranty has a much higher resale value, and is another smart way to protect your investment.



MECHANICAL BREAKDOWN PROTECTION
Did you know that 1 in 3 vehicles experience a
mechanical breakdown in a given year?  The typical warranty owner will make several claims during the life of an agreement.  Should your vehicle experience a failure after the manufacturer's warranty expires, without an extended warranty you will have no protection from the unexpected repair costs that can be in the thousands of dollars! 
 

DEBT PROTECTION
Debt Protection is a voluntary loan-payment protection product that helps you get relief from the financial burden of delinquency, default, or foreclosure if a protected life event unexpectedly happens to you. And, simple eligibility requirements help ease the enrollment process.
ASK ABOUT PROTECTING YOUR LOAN PAYMENTS.
If a protected life event happens to you (and you're a protected borrower or co-borrower on the loan), Debt Protection will cancel or waive your loan payment(s), up to the contract maximums—helping to lessen your worries, and your family's worries, about paying loans during a time when your income may be reduced or lost and paying other household bills becomes challenging. Protected events include:
Loss of life, including those caused by acts of war
Disability, including those caused by acts of war
Involuntary unemployment

Ask your loan associate about protecting your loans, today.
For those times when you need to put some extra cash in your wallet, Highmark Credit Union has a special offer for members: the Skip A Pay program.
Skip a payment
on your qualifying loan and use that money for last minute emergency needs or holiday gifts they'll never forget. Ask one of our Highmark Team Members about details or
contact one of our loan associates.