Remote Deposit
Save Time and Money with Mobile Check Deposit
Our Mobile Check Deposit (MCD) service allows you to conveniently deposit checks into your Highmark Credit Union checking account right from your mobile phone. Save time and money by reducing unnecessary trips to our branches to make a deposit. Make a deposit when it's convenient for you. MCD provides you peace of mind knowing that your checks are deposited quickly and safely through a secure website.



It's as Easy as 1, 2, 3…
Download the Highmark App for your mobile device. The apps are available on our homepage for download.
Set up your access. Click "Sign-Up" and create a user ID. Link the Highmark accounts that you wish to access. Send a request to access the program.
Follow the instructions to make a deposit. Simply take a photo of the front and back of your endorsed check with your mobile device, and the funds are deposited directly into your Highmark account.
 Eligibility Requirements
Account holder must be 18 years of age
Account must be in good standing
Account must be enrolled in Online Banking with e-Statements



Mobile Check Deposit (MCD) Guidelines
Deposit items from $5.00 to $5,000 to 5 items per day
Deposits received through MCD are processed several times during the weekday. Deposit posting times are not guaranteed. Check images received by 4:30 PM weekdays should generally be deposited the same day, but could be delayed due to transmission and/or internet issues. Check your account balance through Online Banking to confirm that the deposit has posted to your account.
Highmark's Funds Availability Policy* also applies to Mobile Check Deposits. Check holds may be placed on your Mobile Check Deposits.
Record the following information on the face of the check: Memo Line DEPOSITED mm/dd/yyyy
All checks must be properly endorsed before sending for electronic deposit.


1.       Sign your name

2.       Write your account number

3.       Write "Mobile Deposit Only"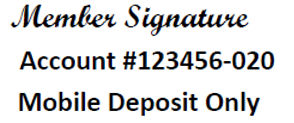 Once you have endorsed your check and have it on Memo Line, take your photos and send your check for deposit.


It's that simple! We recommend that you retain the deposited item until you reconcile your account, and then shred. The credit union retains a copy of all checks deposited. If you have any additional questions, please call, click or stop by to learn more.
Our Funds Availability Policy
is available for you to read at your leisure. 

Mobile Banking
Easily access your accounts, make deposits and pay bills anytime, anywhere while on the go.